Recently, we surveyed some of our customers to find out how business holiday cards benefit their marketing strategies and customer relationships. The survey, along with this blog, is among the ways we are increasing communications with our customers.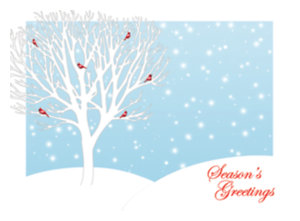 The responses to the survey were overwhelmingly positive and described a number of advantages that they have leveraged to assist them in sustaining and growing their businesses. The majority of businesses found that corporate holiday greetings helped their companies and brand attributes stand out in the minds of potential customers and regular clientele. Sending cards during the holidays is an ideal medium in a world where people are increasingly resistant to messages, because it's a time when customers give you permission to contact them.
Our Holiday Cards Unlimited customers believe that they have been able to implement a low-cost, highly effective marketing strategy and employee motivation program by using various types of business greeting cards throughout the year. This includes everything from "congratulations" and anniversary cards to personalized Thanksgiving, Christmas, and New Year's cards.
We also found that customers were pleased at how their relationships with their own customers have improved. They have been able to illustrate their service, care, concern, and appreciation for those they do business with and for those whose talents and skills add to their success. Part of the reason for this is that cards are different from other marketing forms, allowing companies to tap into emotional and personal connections with their customers. From promotional communications to motivational messages for staff, it seems as though business holiday greetings have made quite an impression on our customers and their audience.
Click here to order your own business holiday cards and connect with your customers this holiday season!
---