Previously we posted some of our new Thanksgiving cards, so this month we are highlighting some holiday greetings we've recently added to our collection.
Click the images for more details about individual cards.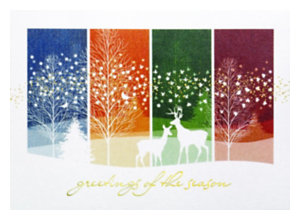 Many businesses and families want to choose a card that's unique and festive while still being inclusive for all recipients. That's why we offer a large selection of "season's greetings" and "happy holidays" cards that don't refer to a single holiday.
"Nature's Beauty" highlights a forest scene of winter trees and deer with panels of jewel-tone colors. The card stock is pearlized white with "Greetings of the season" shining in gold foil underneath the image.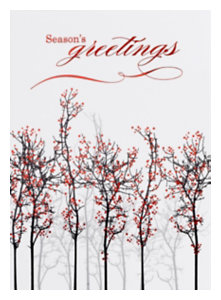 There are a lot of horizontal cards out there, but this vertical orientation is a beautiful frame for trees stretching berry-covered branches to the sky. "Season's greetings" curl across the top like a red ribbon.
This card is not only made from up to 100% recycled paper, but the manufacturer uses renewable energy sources for minimal environmental impact.
Send wishes of Happy Holidays to family and friends with these irreverent holiday cards. A polar bear in a Santa hat snuggles in the snow on a background of white recycled paper. Cute but still appropriate and humorous without being offensive, this is a card that would make even Scrooge smile.
All of our cards are manufactured in the United States and many of them are made from recycled paper or manufactured using energy-saving sustainable practices.