Sometimes, it seems as though simple gestures like saying "thank you" have been forgotten, and yet, it is one of the most effective ways to connect with customers. The sentiment is not only personal, letting your customers know how much you appreciate them, but it also provides a lasting impression. And while technology is a great way to increase communications between you and your customers, nothing can replace the feelings that are evoked by paper business thank you notes.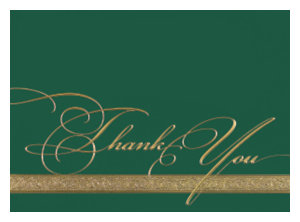 Consider these opportunities for sending business thank you cards:
A new account or client has signed on or renewed her contract with your business.
A client has purchased a considerable number of products or services.
A customer recommended your business to another person or company that has now bought a product or service.
An employee, partner, or vendor has done something exceptional.
It's always a good time to send out a "just because" thank-you to show your appreciation for customers, employees, and business partners. Whatever the reason you find for sending a personal thank-you, just remember that the fact that you took the time to send a brief note will deliver a considerable return on investment in the form of customer and employee loyalty.
---