Knowing what your clients or customers want is the key to any good business relationship. That's especially true in our business, because cards often send meaningful messages or evoke strong emotions around the holiday season. We're trying to create bonds and help you show your customers that you care.
So how do you interact with customers so that they know you are interested, think they are special, and, most importantly, understand that you care about them?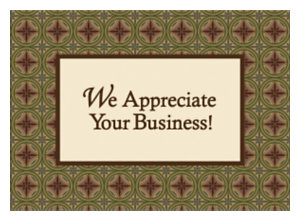 There are numerous ways to ensure that your communication with clients is affordable and effective. Here are a few:
Send them a survey that asks specific questions about your products and services. Adding a monetary incentive or gift card helps.
Interact with them on social networking sites and through blogs or forums.
Offer an easy way for them to contact you, such as a direct email address or phone number.
Deliver regular correspondence that asks for feedback or that provides them with information that helps them solve a problem or fill a need.
Regularly send them professional holiday cards for various occasions as well as thank-you cards and birthday cards.
One powerful way is to just pick up the phone and call them. Plan two to three hours each week to call five to ten customers directly and get their opinions. In a world where people spend more time connecting virtually, they may be surprised and delighted to hear your voice.
---