So long, summer! The transition to fall marks the calm before the storm as our busy holiday season approaches. While we sell all-occasion greeting cards for use year-round, the winter holidays really get us hopping.
One trend we see is an increase in the popularity of Thanksgiving cards. What better time to express your appreciation for others than a national holiday dedicated to giving thanks? Instead of throwing your lot in with a pile of winter holiday cards, Thanksgiving cards offer an opportunity to stand out and get your message through.
Here are some of our beautiful new Thanksgiving greetings — just click the card images for details and a closer look. Would you guess that all three are eco-friendly recycled paper?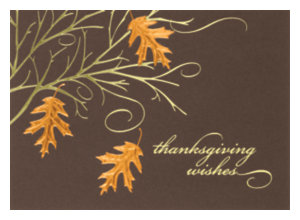 This eco-friendly Thanksgiving greeting features the same rich brown paper inside and out for a unique and dramatic look. We recommend a gold imprint to match the foil on the front.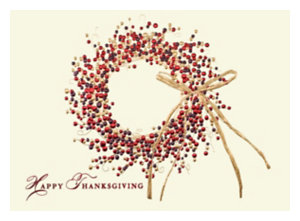 Keep your hippie street cred without sacrificing style! This cheerful card is made from recycled paper developed from responsibly managed forests (and may contain up to 100% post-consumer fibers). Renewable energy resources such as wind power, solar power, and biomass are used in the manufacturing process.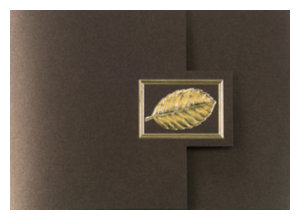 Like the previous card, this tri-fold card is also sustainably manufactured and opens in the middle to display the inner ecru card stock with your verse and personalization. The outside 'wrap' is a beautiful Bronze Stardream paper.
Which of these is your favorite? If you don't see a card you love here, that's OK! CLICK HERE for more Thanksgiving greeting cards.